To Our Guests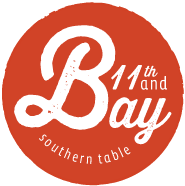 We are so happy to be back doing what we love most, serving others! Things may be
different right now, but one thing that remains is our attention to detail, delicious food prepared
with quality, seasonal ingredients, and our commitment to service and safety. For dining room
seating, reservations are required by phone or online. Our bar and patio seating is first come
first serve. If there is no seating available at our bar or patio you are welcome to grab a cocktail
at the designated area at our bar and we ask that you wait outside until seating becomes
available. We will gladly take your name and number and text you when your table is ready.
Prior to entering 11th and Bay we ask that you are mindful of a few things…
1. If you exhibit any signs of illness or symptoms of COVID-19 you will not be permitted to dine.
We kindly ask that you change your reservation to dine with us on another evening .
Symptoms: Fever | Cough | Shortness of Breath | Chills | Repeated shaking with chills
Muscle Pain | Headache | Sore Throat | New loss of taste or smell
2. Our team is prescreened daily prior to entering 11th and Bay.
3. We are hyper focused on sanitation and have implemented systems to ensure the safety of our
guest and team per the recommendations from The Food and Drug Administration, The Centers for
Disease Control and Prevention, The Environmental Protection Agency, and OSHA. We will continue
to follow these guidelines as put forth and make changes accordingly.
4. We have created a dining space indoor and outdoor with social distancing in place.
5. Our floors are marked and will help you navigate through our dining room.
6. We have placed hand sanitation stations throughout the restaurant for your convenience.
7. Our menus are discarded after each use.
8. Upon closing out your dining experience we will provide you with an UV sanitized pen
for signing your check.


Thank you for your consideration of others and we hope you'll pull up a chair and stay awhile!
~ Michael and Heather Harrell